E124 Georgia's Capitol Building
With Sophia Queen
2 months ago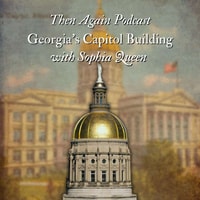 The GA Capitol Building and Museum: Since its construction in 1889, Georgia's gold-domed Capitol Building has been an icon of Atlanta. Yet, if votes had gone differently, the Capitol Building would be in Milledgeville. So, why Atlanta? Marie speaks with Sophia Queen, Manager of Tours and Education at the Georgia Capitol Museum, to learn why Atlanta was an ideal city for Georgia's capitol and the story of its gleaming Capitol Building.
Website: www.libs.uga.edu/capitolmuseum/
Podcast Survey! Listeners, we would greatly appreciate your feedback about Then Again by taking our podcast survey: bit.ly/thenagainsurvey
Find out more at http://www.thenagainpodcast.com
This podcast is powered by Pinecast.