E114 Woodrow Wilson's GA Connections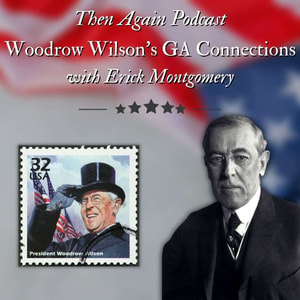 With Erick Montgomery
When most people think about Presidents and GA, they think of Jimmy Carter or FDR and the Little White House, but most people would not think of President Woodrow Wilson even though he grew up in Augusta, GA! The man who would become the 28th President of the United States was raised in Augusta, GA from age 14 months to 14 years old, throughout the tumultuous time of the civil war and reconstruction. In this podcast, Marie Bartlett speaks with the Director of Historic Augusta Inc. Erick Montgomery about the Boyhood Home of Woodrow Wilson, how growing up in the South influenced Wilson, and some of his other GA connections you probably didn't know. If you are interested in learning more about this topic check out Erick Montgomery's book, Thomas Woodrow Wilson: Family Ties and Southern Connections.
Link to website_: _www.wilsonboyhoodhome.org
This podcast is powered by Pinecast.