E125 Preserving Local History
With Peter Madruga
2 months ago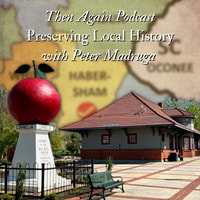 Preserving local history takes dedication, patience, curiosity, and a true passion for your community. In this episode, Libba speaks with Peter Madruga, President of Habersham Education and Research which is dedicated to preserving and sharing the history of Habersham County, Georgia. Most recently, Peter and his team have produced a documentary about the history of the train depot in Cornelia, Georgia, which has been an iconic part of the town since its construction in the late 1800s.
Cornelia: a Train Town premieres Saturday, September 17th and will be shown again on October 15th. The documentary will also be released to the public at a later date. Details at: www.habershamhistory.org/
Podcast Survey! Listeners, we would greatly appreciate your feedback about Then Again by taking our podcast survey: bit.ly/thenagainsurvey
This podcast is powered by Pinecast.