S1E15 - The Crusades
A War for Prophets or Profits?
a year ago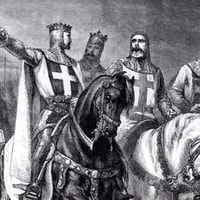 Episode Notes
"Retake the Holy Land!" Wait, wait, not so fast – what do you mean "retake"? The answer may surprise you! Actually, the answer will surprise you… In this episode Ken and Glen get medieval (one of their favorite things to do) and discuss the tangled, exciting, confusing, and adventurous (and centuries long!) events known as the Crusades.
Thanks for listening! Questions? Comments? Talk to us at thenagaincontact@gmail.com
Then Again with Ken and Glen is produced by the Cottrell Digital Studio at the Northeast Georgia History Center in Gainesville, Georgia. Visit www.negahc.org to learn more.
Follow us on Facebook at www.facebook.com/negahc
Find out more at http://www.thenagainpodcast.com